Jean Sperl's Fundraising Page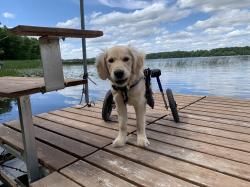 RAGOMS MISSION,
To rescue and rehome unwanted, abused, and displaced Golden Retrievers and Golden Retriever mixes, and locate permanent homes for them.
Updated: Thank You! Thank You! Thank You! So far we have gotten some great donations. We are upping our goal, We have 11 more week to go and we want to raise as much money as we can for this great resscue!,
I am so proud to be a part of this rescue, I am a foster, the bridge between unwanted abused, neglected and displaced Goldens to a permanent loving home. I have seen dogs come from all of these situations. With the help of volunteers and supporters. We can help these dogs.
Every year I honor one of my foster dogs and raise money to help RAGOM, This year my foster dog Levi 21-200 gets that honor. We call him Moose.He came into Ragom as a young puppy. He has no movement in his back end. After seeing a specialist we found out there was nothing that could be done to fix this problem. So from that day forward we focused on what Moose can do, not on his disability.
RAGOM fixed him up with some wheels and he gets around great! We fill his days with fun adventures and activities that he loves. Walks, boat rides, and a lot of stick chewing.
Thanks to RAGOM this boy is living the Golden Life!
RAGOM does a wonderful job helping so many dogs, GOLDZILLA is our largest fundraiser of the year . I am reaching out to my friends and family to ask for your help. If you can help in any way I would appreciate it and so will all the dogs RAGOM has helped!
ABOUT Goldzilla 2021
Goldzilla—RAGOM's annual Fun Fair and Walk for Rescue—supports our mission of rescuing and rehoming Golden Retrievers and Golden mixes of all ages. Your donation will provide RAGOM dogs with veterinary and foster care on their way to finding adoptive homes. So donate today and join us at Goldzilla to meet the many dogs you help!
Prefer to donate by check? Enter the name of the person you're pledging in the memo line and mail to: RAGOM, 5800 Baker Road, Suite 120, Minnetonka, MN 55345. NOTE: For pledges to be reflected on a walker's fundraising page, checks must be received by Thursday, September 16.
Supporters
Name
Date
Amount
Comments
Pam Speidel
09/19/2021
$50.00
Thanks for all that you do for a RAGOM!
Marsha Majewski
09/18/2021
$75.00
Thank you for all your calm guidance, support and help with Cheyenne and my other foster dogs over the years. And most of all, for working your matchmaking magic that brought Paddy into my life.
Devon Thomas Treadwell
09/16/2021
$60.00
Thanks for all you do, Jean Sperl!
Nicole Haun
09/16/2021
$100.00
Esther Motyka
09/16/2021
$25.00
Thank you for being such a great foster!
Anonymous Friend
09/12/2021
$70.00
Thank You, Amy, Donald, Pamela and Krysta! Your donation dollars have been matched!
Beverly Latterell
09/12/2021
$100.00
Amy Lake
09/10/2021
$10.00
Donald Latterell
09/07/2021
$20.00
In Loving Memory of Baylee, We miss you girl.
Pamela Gnan
08/27/2021
$20.00
Thanks for caring and taking care of those that need our care and ?.
Krysta Solberg
08/27/2021
$20.00
Thank you for all you do for the Goldens!
Rutager West
08/23/2021
$75.00
Korey thanks you for all the custom sewing!
Ann Taly
08/22/2021
$50.00
Karen LeMay
08/18/2021
$25.00
Thank you, Jean, for all you do!
Deborah Larson
08/15/2021
$50.00
Helen Rosen
06/30/2021
$240.00
In honor of Jean Sperl who is so devoted to Levi/Moose and for Levi who is such a great dog. Thank you for all you do. When I read a new message from Levi, it always puts a smile on my face.
Donald Latterell
06/29/2021
$20.00
Steph Tracht
06/27/2021
$50.00
Thanks for all you do to help these dogs have a Golden life!
Cynthia Ryan-McLain
06/26/2021
$100.00
In honor of Jean for taking such wonderful care of Moose.
Doug Safar
06/25/2021
$50.00
Such a great program with dedicated volunteers. Lucky dogs!
Laurie Hoppe
06/21/2021
$40.00
You do fantastic work!
Total
$1,250.00
Report Abuse
Edit My Page